A new major release: Runalyze v3.1 is there!
Download Runalyze v3.1:
---
Overview for all changes
All issues for v3.1 on GitHub.
As always: You find the update instructions (v3.0 -> v3.1) in our documentation. For the update you might take a look at the installation guide.
You need at least PHP 5.6.0!
Please take the time to read thoroughly through the update/installation guide.
Donate
If you want to support this project please make a (recurring) donation to keep our motivation to develop this software.



Support
Please use the forum if you have any questions or problems. We don't give any support for private installation via mail.
Never miss new releases and updates of RUNALYZE – Subscribe to our newsletter
RUNALYZE started as one-man-project with only one user and has grown to an app with around 10.000 users of our official online version. Server requirements and complexity of the app and its configuration grow with the feature list. Please understand that our main focus is on implementing new features and serving a performant online version. Therefore, support for local installations is limited.
Ideas? Share them with us!
Even though we have a lot of tickets and ideas on Github (and we have not even written down every idea in a ticket), we want to hear from you what is really missing. Just tell us your ideas in our  forum. A detailed description helps us to visualize your idea and to be faster with implementing it.
Help us propagating RUNALYZE
We would be pleased if you include our  "RUNALYZE powered athlete" button in your forum signature or in your blog/website.
Join us as a tester (official version and private installations)
We are permanently looking for testers. As a leisure open source project we don't have resources to test everything in the smallest detail. We have automatic tests but they will never cover the full application. Just write us a short mail with your username & mail address if you are interested joining as a tester.
If you are using an own installation of RUNALYZE and want to join us as a tester just write us a short mail. We will add you to our mailing list.
Help us translating RUNALYZE
As we are adding more and more functions, a lot of new passages have to be translated. If you have fun and time to translate RUNALYZE into your language or a language you know just register at translate.runalyze.com. In no case you have to translate everything for a language – just do as much as you can and want to. If everyone translates a small part we are still getting into the right direction.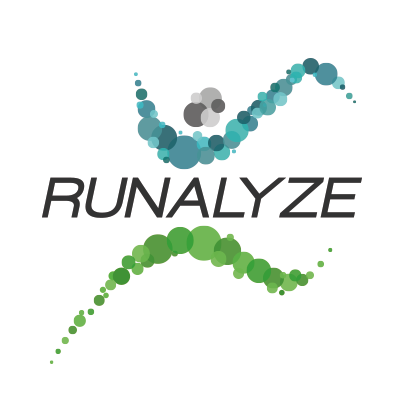 Checkout the features of RUNALYZE and go ahead and create your account for analyzing your activities at RUNALYZE.com for free.

RUNALYZE is built by athletes for athletes. We love to hear your feedback and ideas. Tell us what's most important for you in our forum.
We spend our leisure time to make RUNALYZE as good as possible and we still have tons of great ideas, but time is scarce and after a hard training we first need some fruits or a smoothie. You can support the development of RUNALYZE with every financial contribution — We highly appreciate every grant.