Runalyze
A web application to analyze your training – as detailed as nowhere else.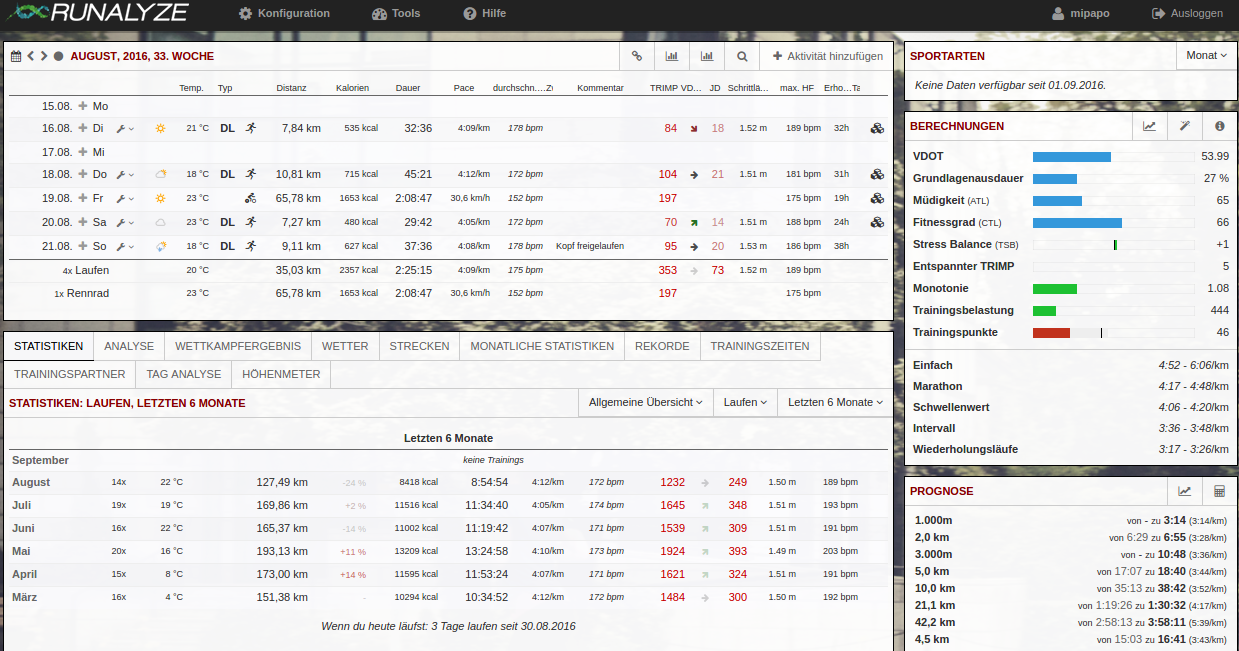 Unique calculations
Logging all your activities is easy. Runalyze does much more:
TRIMP principle

TRIMP is short for Training Impulse and gives you the opportunity to compare activities of different intensity levels.

Effective VO2max estimation

VO2max is a scientific metric for the maximal oxygen uptake that is highly correlated with your maximal running performance. In addition to common calculators that estimate VO2max based on a race result, we estimate your effective VO2max for every activity based on the relation of your heart rate and pace.

Runalyze goes one step ahead: We estimate your current effective vo2max shape based on your heart rate and pace of every activity.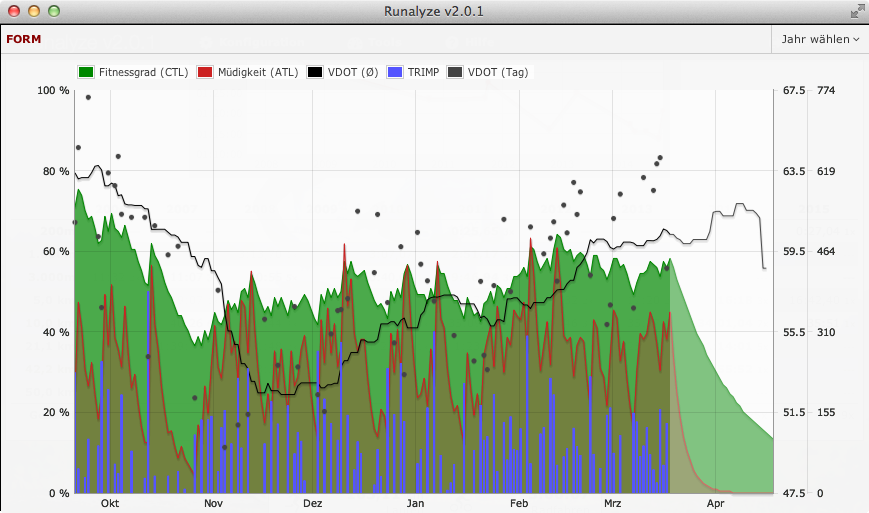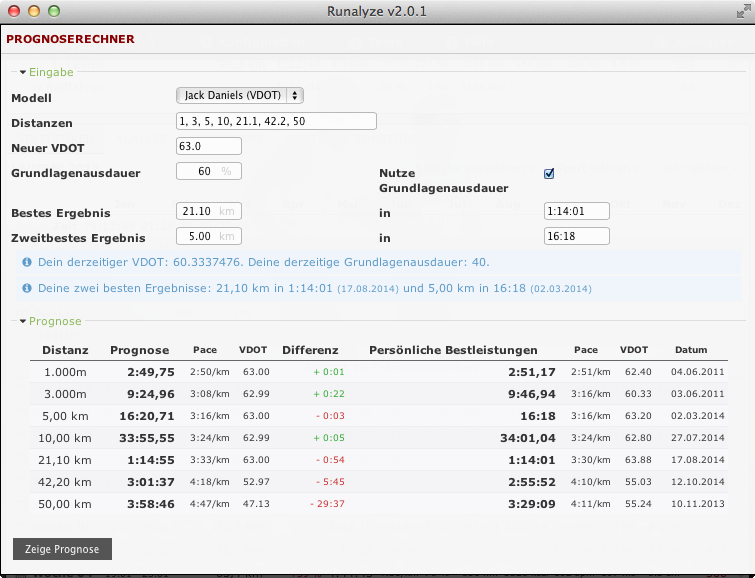 Prediction

You can choose your favorite model to predict your upcoming race: CPP by Robert Bock, a simple method by Herbert Steffny, calculations by David Cameron or our vdot method based on Jack Daniels.

Prediction based on your shape

Most models predict your race performance based on your personal bests on different distances, but that does not always fit your current shape. Our vdot estimations can be used to give much more accurate predictions.
Overview
Don't loose sight of anything.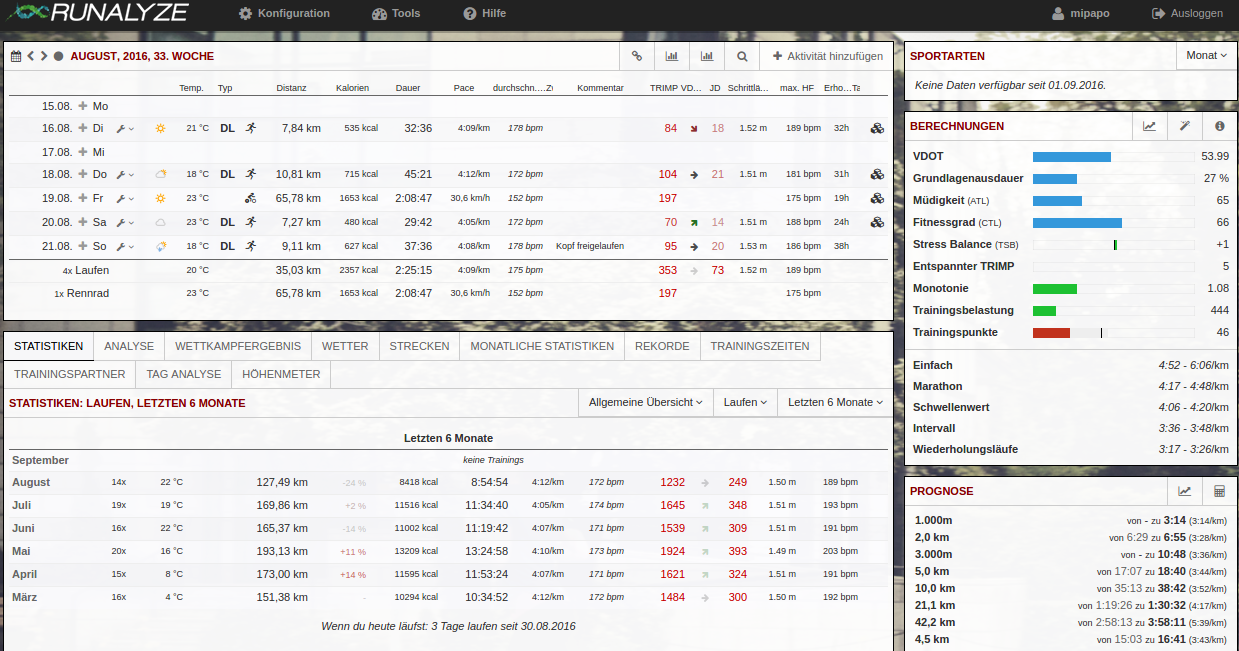 Calendar view

You can always see your latest activities (or browse to any other time range).

Statistics

Runalyze offers you a lot of statistics to analyze your training.

Panels

You can choose which panels to show up on the right side.
Features
Direct garmin import
Direct import from garmin devices via garmin communicator.
Upload
Upload for all common formats (*.fit, *.fitlog, *.gpx, *.hrm, *.kml, *.logbook, *.pwx, *.slf, *.sml, *.tcx, *.trk, *.ttbin, *.xml).
Export
Export single activities as tcx-, gpx-, kml- or fitlog-file.
Elevation correction
GPS-based elevation data can be corrected via srtm data.
Elevation calculation
You can choose the algorithm and settings for your elevation calculation.
Privacy
By default all your data is private. You don't need to be in our community.
Search
You can search any activity based on various parameters.
Dynamic graphs
Dynamic graphs with tooltips, fullscreen mode and the option to save them.
Zone analysis
Analyze your training based on specific zones.
Own sport/activity types
Define your own sport/activity types.
Log your …
weight, resting heart rate, equipment, weather, route, …
Shared view
You can publish your activities – if you want to.