Some users have asked for automatic synchronization with Oura and now it is available to everyone.
For now limited to sleep data, as we do not yet support HRV data outside of individual activities.
How do I connect my Oura account to Runalyze?
Click on "Automatic Sync" on the dashboard and click on "Connect".

You will be redirected to Oura.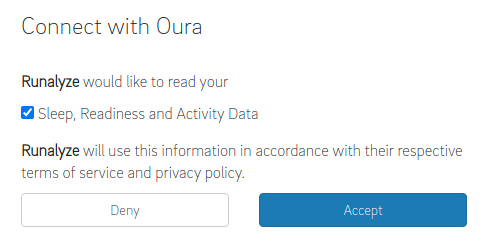 You need to grant us access to your Oura data here. Afterwards you will be redirected back to Runalyze.
If you want to disconnect the account just go back to "Automatic Sync".
FAQ
When will the data be synchronized?
Unlike other providers, we are not informed if new sleep data is available. Therefore we check once an hour if new data is available for the connected accounts. This can lead to delays in the sync.
Do you have any questions? Let us know and comment here.