Garmin stopped syncing third-party activities to platforms like ours in early April. This means that when Zwift sends activities to Garmin, we no longer receive them. Activities created by Garmin will of course still end up at Runalyze.
Therefore, we have now implemented automatic synchronization with Strava as a workaround, so that Zwift activities, for example, can still automatically end up on Runalyze.
It is important to note that by default we only synchronize the activities that cannot already be synchronized via direct connection from other vendors (Garmin, Suunto, Polar, Coros, …).
Since we do not get the original files, we lose information that we could otherwise extract directly from the file. Therefore, the synchronization is and should only be used if you want to have, for example, Zwift activities or activities recorded directly via the Strava app automated in Runalyze. In all other cases, the direct connection of the vendor or, for individual activities, the manual upload of the respective file should be favored.
How do I connect my Strava account to Runalyze?
Click on "Automatic Sync" on the dashboard and click on "Connect".

You will be redirected to Strava: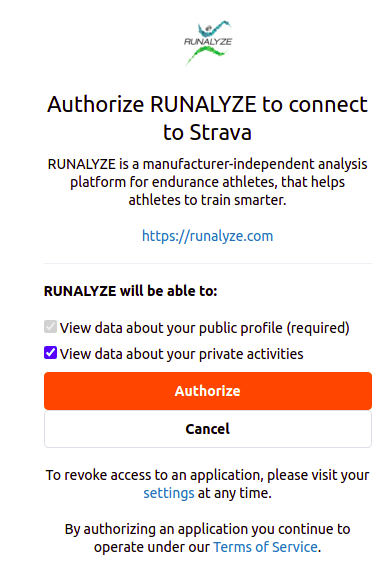 You need to grant us access to your Strava data here. Afterwards you will be redirected back to Runalyze.
If you want to disconnect the account just go back to "Automatic Sync".

FAQ
Which activities are synchronized?
You can control which activities are synchronized. By default, only activities that cannot already be synchronized via direct connections to other vendors are synchronized.
When will the data be synchronized?
The synchronization of activities happens in a timely manner, as we receive a notification accordingly.
Do you have any questions? Let us know and comment here.
Is there a Runalyze Strava Club?
If you want to do some "promotion" for Runalyze you can join the Club at Strava