Spring is often marathon time. But how do you know if you are in good shape? Test races over shorter distances such as 10 km and half marathons are a good indicator, but neglect the length of a marathon. Just because the underdistance times are correct, not everything has to be successful over the full distance. The marathon shape that Runalyze determines for you is a good indicator to know if you are really ready for the full 42 kilometers.
We have already communicated openly in the past how the marathon shape is made up exactly (see our help for details). But recently we have a new view which makes the composition more clear.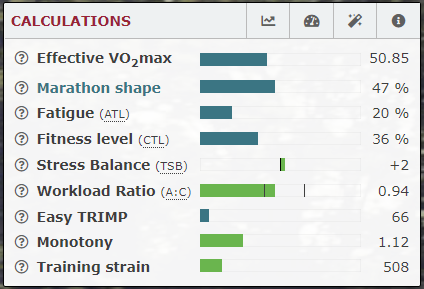 First we look at an example of a runner who was not in marathon training at the time shown. The most important value is the Effective VO2max. This determines how well you could complete the marathon in the best case (More about Effective VO2max in our glossary). If the target times shown below do not match the actual performance level, the Effective VO2max should first be adjusted or corrected. To assist you, the best results from the last 6 months are shown under "Recent results". In the example shown, the values are well matched and in line with the athlete's personal feeling.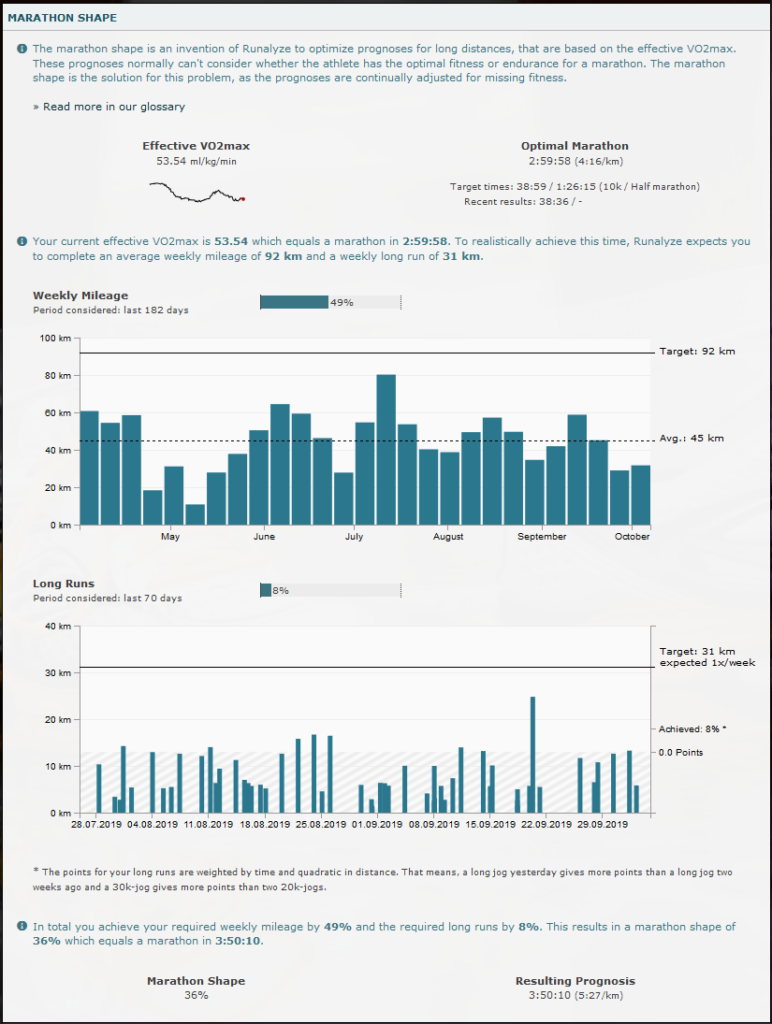 For this theoretical target time (here sub3), Runalyze now gives training guidelines based on typical marathon training plans. In this example, 92 weekly kilometers and an average long run of 31 km are required.
The weekly kilometers are fulfilled about half way. In the last half year, the athlete has usually run 40 to 60 weekly kilometers. Long runs, on the other hand, the athlete has did almost none (in the last 10 weeks). Accordingly, the marathon form at the end is not very good: Only 36% means a realistic forecast of only 3:50h at the current time.
To get an impression of what the whole thing looks like after completed marathon training, we have another example of a successful marathon runner: The weekly kilometers are not quite fulfilled due to the long period of 6 months, but the long runs are all the more so. Accordingly, the marathon form stands at 100% – and in the end the athlete shown was even able to beat the predicted time of 2:31h by 5 minutes.