Being a successful athlete involves not only proper training, but also proper recovery. In particular, it depends on the coordination of the two: Intensive training sessions only achieve their desired effect when the body is ready for the stimulus.
To be able to determine the readiness of the body, one can look at a wide variety of metrics. In addition to resting heart rate, sleep and mental state, heart rate variability in particular provides information about the internal state. The good thing is that Runalyze now supports the input or synchronization of daily HRV measurements.
In the best case, the measurement is performed directly in the morning before getting up. All it takes is a minute and a corresponding sensor or app. The HRV value then displayed, usually the RMSSD or a transformation of it (e.g. lnRMSSD), gives a trend of how recovered one currently is compared to the baseline, the average of the past days.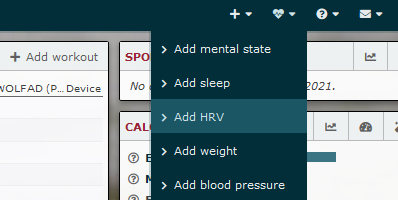 This value can be entered manually by clicking on "HRV" in the Health panel on the right or the corresponding link in the drop-down menu. In the best case, however, the value is already synchronized automatically. This happens so far for Oura and Garmin (Only Venu2 "Health Snapshot" yet). If your favorite app is not supported yet, you can leave this request on our ideas platform.