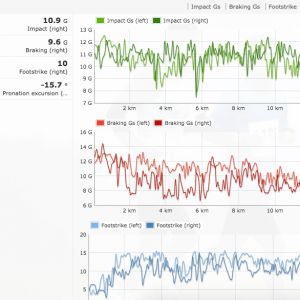 More and more data can be recorded while running. Many new devices to try to learn more about the running style and the forces that actually occur. One promising project is RunScribe. With one RS+ Pod each on the left and right, four new metrics can be recorded in addition to the step frequency and the ground contact time already known from Garmins Running Dynamics: Impact Gs, Braking Gs, Footstrike Type and Pronation Excursion (More details about the metrics in RunScribe). The data can be a useful indicator to evaluate the running style (e. g. depending on ground, shoe or speed) and to prevent possible overloading.
Since the latest RS+ version of the Pods is ANT+ compatible, the data will also end up in Garmin's *. fit files – provided the corresponding RunScribe Light data field is installed. (We don't support the RunScribe Plus data field). When uploading these files, RUNALYZE can now also read and evaluate these data. At present, however, only the data that is displayed in the data field (maximum of four) is written to the *. fit file.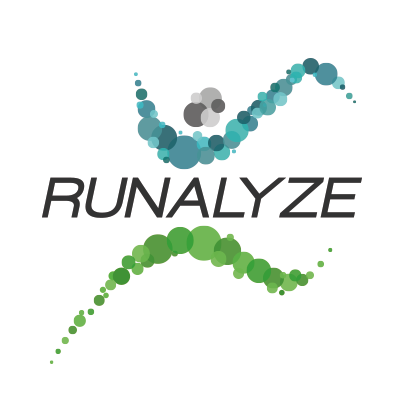 Checkout the features of RUNALYZE and go ahead and create your account for analyzing your activities at RUNALYZE.com for free.

shop.runalyze.com> or buy things/gifts
at amazon.de
or
at amazon.com
.
We spend our leisure time to make RUNALYZE as good as possible and we still have tons of great ideas, but time is scarce and after a hard training we first need some fruits or a smoothie. You can support the development of RUNALYZE with every financial contribution — We highly appreciate every grant.