Have an idea or feature you're dying to see in Runalyze? Wish it on our idea platform.
With 100 up-votes it was one of the most requested features, now we followed your request and implemented it: The marathon shape is now also available for other distances.
This means in detail: You can select a distance other than the marathon distance in the configuration for the "Calculations" panel. For example, if you enter 21.1 km, the half marathon shape (or "Endurance (21 km)") will be displayed from now on.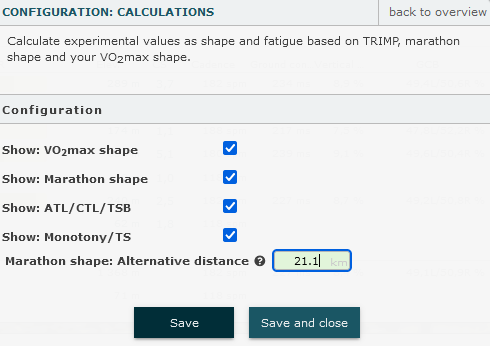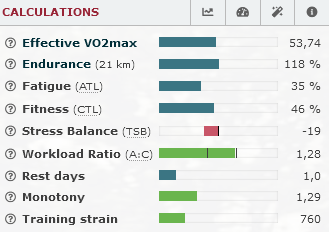 Also, in the marathon shape detail view, you'll get info on the "classic" distances of 5k, 10k, 10 miles, half marathon, marathon, 50k, 100k, and 100 miles, what's required to achieve each optimal shape, and what this means for the forecast.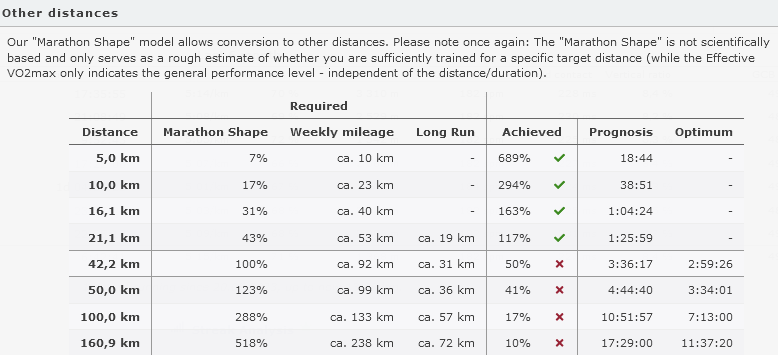 However, the conversions here result directly from the marathon shape model. It has always been required that marathon shape be about 43% for an optimal half marathon prediction. The given weekly mileage and long run are a possible combination to achieve this 43% (in terms of current performance level).
Please keep in mind: the marathon shape is not scientifically based, but is only meant to be an aid in correcting what are otherwise often overly optimistic predictions for long distances. While the Effective VO2max directly provides a possible time for each distance, it does not take into account at all whether you are sufficiently trained for it.
This also means that the requirement given here is not a recommendation for a training plan. Only 10 weekly kilometers is certainly not optimal for a 5-km run. But: According to the model, sufficient to be able to maintain the performance level determined on the basis of the Effective VO2max over 5 km.